Do you wish to understand how debt and credit will impact your future? Or, maybe you have a bit too much debt already and are struggling with your credit score. The analysts at Key Analytics and KITToday.com created this workshop for you! After you complete this workshop, you will never again wonder what to do if you fall into trouble with money. You will be prepared to keep moving forward to reach your goals. NOTHING WILL GET IN YOUR WAY!
In this workshop, we will cover the best strategies to pay off your consumer debt, keep it away, and use credit to help you grow your wealth. We will also include step by step ways to improve your credit score quickly so you can recover from any past mistakes! It is time to get on the path to financial independence, and this workshop will bring you that much closer.
Here is the Debit & Credit Workshop agenda: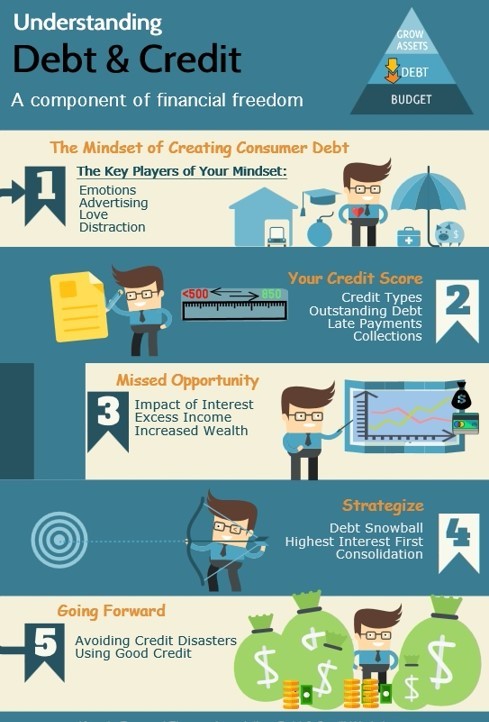 Click HERE to register. Sign up quick, only the first 25 students get the Stop Living Paycheck to Paycheck 5-day Mini-Course FREE! Learn more by visiting our Keys to Personal Finance Association class listing.

The blog post or newsletter makes general observations about markets, business, or financial trends and may provide advice about specific companies and specific investments. It does not give personal investment advice tailored to the needs, objectives, and circumstances of individual readers. Whether investment ideas and recommendations are suitable for individual readers depends substantially on the personal and financial situation of that reader, which KIT Today, as the publisher of the blog, makes no effort to investigate. KIT Today attempts to provide accurate content in its blog and newsletters to the extent such content is factual rather than analysis and opinion, but KIT Today relies primarily on information compiled or reported by third parties and does not generally attempt to independently verify or investigate such information. Moreover, some content and some of the assumptions, formulas, algorithms and other data that affect the content may be inaccurate, outdated, or otherwise flawed. KIT Today does not guarantee or take responsibility for the accuracy of such information. Please note that investing in stocks, other securities, and commodities is inherently risky, and you should rely on your personal financial and tax advisors. You should conduct your own due diligence in connection with any investment decision. Disclaimer of Liability: KIT Today disclaims any liability for investment decisions based upon recommendations, information, or opinions in its blog or newsletters. KIT Today is not soliciting you to execute any trade. Nothing contained in KIT Today's newsletters is intended to be, nor shall it be construed as an offer to buy or sell securities or to give individual investment advice. The information in the blog and newsletter is not intended for distribution to, or use by, any person or entity in any jurisdiction or country where such distribution or use would be contrary to law or regulation, or which would subject KIT Today to any registration requirement within such jurisdiction or country. COPYRIGHT NOTICE: PRINT ONCE —- DO NOT FORWARD—-DO NOT COPY Current and past market commentaries are protected by U.S. and International copyright laws. All rights reserved. You must not copy, frame, modify, transmit, further distribute, or use the market commentaries, without the prior written consent. Any download from a secure website or email is meant for only the intended recipient of the transmission and may be a communication privileged by law. If you received this information in error, any use, dissemination, distribution, or copying of this email is similarly prohibited. Please notify us immediately of the error by return email analyst@kittoday.com. Although email and any attachments are believed to be free of any virus or other defect that might affect any computer system into which it is received and opened it is the responsibility of the recipient to ensure that it is virus free and no responsibility is accepted by KIT Today for any loss or damage arising in any way from its use.